How to Create a Classy Classroom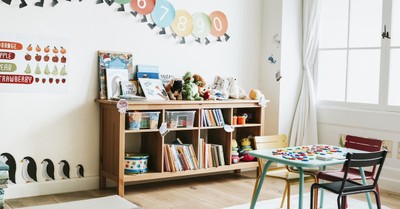 By Julie Engelhardt, Crosswalk.com
Classy Classrooms
Setting up an efficient home classroom can be challenging, but it can also inspire you to tap into your creative juices to make it a functional, fun learning environment. There are certain decisions to consider, such as, which room or space should we use? Will the kitchen or a spare bedroom work best? Once the location has been selected, the next step is to determine how you'll proceed with your setup. Should the learning manipulatives be on the floor or in a bin? Where do I put the bookcases, desks, and tables? Do I fill the room with lots of items, or do I start with a blank slate and let the children fill it with their projects?

Before taking a deep dive into answering these questions, remember that what works for one family may not be right for another. We checked with some homeschooling moms to see how they've set up their classrooms.

Angela Toler homeschools her two children, ages 6 and 8. She says that her decision to homeschool was God-inspired. She says it was scary at first, but a lot of her ideas for curriculum and other resources came from watching other families on YouTube. "My whole downstairs living room is where I have my homeschool set up. We use our table as our central meeting area," she said. "Both of my girls are very interested in math and science, so that's a real focal point at home here." To encourage her budding scientists' interests, Toler's classroom incorporates microscopes and various periodic table puzzles that they can use throughout the day. "We also have a computer lab, and they use a tablet for coding and things like that."

A home classroom doesn't have to be filled with art and projects from the get-go. Lauren Schmitz, author of the blog "The Simple Homeschooler," has approached her homeschooling setup in a different way. She has her classroom set up in half of her living room. "Start small and build," she advised. "Get the very basics. You don't have to start out the way you intend to finish. Start with the pencils, the paper, your supplies, and let your year build. So, when I start, my classroom is blank. I do have a bulletin board, and a whiteboard and blank walls. As we go through the year—say we're going to do the solar system unit— I'll add in a poster with the planets on it, or we do an art project and I'll put up one of their pieces they've finished. The wall will build with their work or what we're specifically working on." Schmitz says that your kids aren't going to be affected by not having everything perfect on day one, or every wall filled or every supply ready. Let the classroom take on a life of its own using the children's creations. Jessica Rogers has a 5-year-old daughter and a 7-year-old son. Her inspiration for their classroom comes from her own background, saying that she always succeeded in school as a visual learner. "I learn better with projects," she explained. "I wasn't homeschooled, but when a teacher put something in front of me, I remembered it. That's how I got through a subject like math—it stuck with me."




Throughout their family-room classroom, Rogers has incorporated different projects, art, and visual stimuli. "I want to make it a fun environment. The minute I become bored, my kids become bored, too," she said. One classroom wall incorporates a giant shelving unit that houses games and puzzles. "A lot of our games are educational," she continued. "We have trivia games, and we have Yahtzee which we'll pull out for multiplication. Then we have puzzles related to all sorts of things, like the whole human body." Rogers uses as much space as possible to reinforce certain lessons. For example, there are pictures of forty-six United States Presidents tacked up around the perimeter of the room. Each picture features a quote from each president. Not only does she use the pictures as historical references, but she also incorporates subjects like math by asking questions such as, "What's six times seven?" The answer equates with the picture of the forty-second president, Bill Clinton. The children's "desk" consists of a well-loved, paint-splattered kitchen table from their first home.

Kitchen chairs are set up for the kids, and at times they'll use "wobble" chairs—big exercise balls they sit on. They also have a special reading chair where her son likes to curl up and delve into one of their many chapter books. Rogers also has a large whiteboard for lessons. One side displays their calendar written out in English, Spanish, and American Sign Language. Finally, the Rogers classroom has a couple of special friends—a lizard and two bunnies.

For more tips and ideas on how to build your own classy classroom, check out these sites:

Copyright 2022, The Old Schoolhouse®. Used with permission. All rights reserved by the Author. Originally appeared in the Spring 2022 issue of The Old Schoolhouse® Magazine, the trade publication for homeschool moms. Read The Old Schoolhouse® Magazine free at www.TOSMagazine.com, or download the free reader apps at www.TOSApps.com for mobile devices. Read the STORY of The Old Schoolhouse® Magazine and how it came to be.

Photo credit: ©GettyImages/Rawpixel

Julie Engelhardt has been a freelance writer for the past thirty years, writing for family, home and garden, travel, and general interest publications. She is originally from California and moved to Louisville, Kentucky, in 2015. She loves living in the southeast and exploring the rich history of that part of the country. Her background is in television news, marketing, and public relations. She runs her own business called "Story Time Adventures" where she visits schools, libraries, daycare centers, and preschools to promote literacy. She is the proud mother of two sons, Alex and Chris. Her hobbies include sewing, reading, hiking, and baking.

Related podcast:

The views and opinions expressed in this podcast are those of the speakers and do not necessarily reflect the views or positions of Salem Web Network and Salem Media Group.

Read the full article here!