Is There a Best Age for Christians to Marry?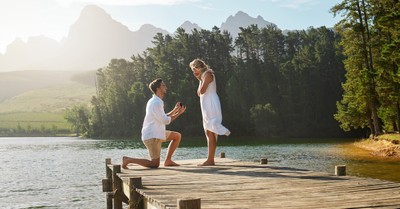 By Cally Logan, Crosswalk.com
There are clear and understood general ages for certain events or milestones for so many life occurrences. For driving, generally, sixteen is the best age to start and to receive a license to operate a motor vehicle; to vote, the age is eighteen, and to purchase alcohol, it is twenty-one. These are all great high points in life and ones that most begin to practice around the same age, yet one of the most desired and important things in life does not have a clearly defined age: marriage. Is there a best age as Christians that we ought to marry?
Why Should Christians Marry?
Before answering the best age to marry, we must ask ourselves why marriage is generally important. The Bible speaks clearly about marriage throughout the Old and New Testaments. It is clear that it is God's heart and desire that marriage be the union of a man and a woman who both are of faith genuinely in Him. The Lord instituted marriage between Adam and Eve in the Garden of Eden, for it was not good that man was alone. The instructions He gave to them were to be fruitful and multiple, but it was also clear that God had a relationship with them both separately and in their union as well. Even today, marriage is a holy and set apart relationship before God and one where the husband and wife separately and together ought to have a personal relationship with God. The fruit of marriage, in most cases, is also offspring who are called to be raised to know and follow the Lord. Marriage is something to be entered into with wisdom, discernment, and the blessing of God.
Related:
10 Ways to Renew Your Single Mindset
What Does Paul Have to Say about Singleness in the New Testament?
Who Should I Marry?
One of the most important questions you should ask God is who He would desire for you to marry. As humans, as much as we seek to gain knowledge, understanding, and wisdom on our own, we are limited and cannot fully know the Will of God unless we ask Him ourselves. Even if it takes time and requires patience, you will never regret asking God His best choice for you, especially in marriage. Because He made your heart, He knows your heart better than anyone, and He knows what your life will entail down the road as well. For such reasons and to live a life fully submitted to the plan and Will of the Lord, it is imperative to invite Him into your marriage even before it starts. If you have not done this and have found yourself in a place where divorce did come forward, know it is not too late to invite God into your love life. God is not finished with you yet!
Not Every Relationship Ends in Marriage
Know that often, not every relationship is to end in marriage either. As much as we want to enter into relationships with the intention of marriage, we must realize that some relationships are not meant for marriage, but for maturity, a lesson, or another purpose. It does not make the relationship a waste of time, nor does it make it a failure; instead, it fulfills the purpose of said relationship. When we know that sometimes dating someone will help us become the person we were meant to become or that there is something to take with you moving forward, we realize that the time was spent well. It served a purpose and was part of the journey, but not the destination.
Preparation for Marriage
Timing for marriage, in truth, can vary from person to person because of what it may entail to be prepared for the person you are to share this life with. Consider how in the Book of Esther, there was a time of preparation of an entire year before Esther was even ready to be presented before the King as a potential bride. Now, of course, this was a foreign court with foreign practices, but we can see that God had perfect timing for Esther and use during this year. Esther learned much about life at court and what her role would require as Queen, and God used that year to help her become ready for what she was about to step into as a wife to a King. In the same way, God often prepares His children for a period of time so that they can work well together. As much as we would like to think that meeting at eighteen would have worked for us all, more often than not, trials, obstacles, and paths will make us into different people than we were at eighteen. This can prove a blessing to your future spouse as you are becoming the person they need as a husband or wife and becoming the person you need to be for the life you've been called to. Do not look upon seasons of preparation with impatience; instead, see them as a gift of space and time to become ready for all that God has awaiting you on the other side.
Related: 10 Ways You Can Prepare Yourself for Marriage Now
God's Timing
Isaiah 55:8-9 reminds us of the vital truth, "For my thoughts are not your thoughts, neither are your ways my ways," declares the Lord. "As the heavens are higher than the earth, so are my ways higher than your ways and my thoughts than your thoughts."
God knows better than we do, including the timing of specific events in life. The truth is the best time to marry is when God says you ought to, and that may not align with your preference. For some, it is early in life, but for many, it comes later. Just because God's timing is not where you would have hoped it would be does not make it wrong, nor does it mean anything is wrong with you. Sadly, many place judgments upon themselves that if they are not married by a certain age, there must be something wrong with them, but that is a lie straight from the enemy himself. God has a plan for your life, including the timing for marriage. The best time for a Christian to marry is not when the calendar is free in June or when ultimatums come; the best time for a Christian to marry is when God says, "yes." It is wise not to prolong engagements that you may not find yourself tempted to sin but to marry in the right way in God's timing. God cares deeply about every facet of your life, including the timing, so invite Him into not only asking "who," but "when" as well.
Final Thoughts
Marriage is a beautiful gift from God to His people to better understand the relationship of Christ to the Church and to journey this life together. Not all are called to marriage, but for those that are, it is imperative to invite God into every detail and intricate part of the process. Know that God loves you and has a beautiful plan just for you in His perfect timing, and you will see the fruit of what it means to fully submit and trust God when you allow Him to write your love story in His ways and in His timing. The best time for Christians to marry is at God's timing.
Photo credit: ©GettyImages/PeopleImages
Cally Logan is an author and US History teacher from Richmond, Virginia. In her free time, she enjoys mentoring youth and spending time in nature. She is the author of Hang on in There, Girl! and Dear Future Husband: A Love Letter Journey While Waiting for God's Best. Check her out on Instagram and Twitter, @CallyLogan and TikTok Cally_Logan.