3 Truths to Remember During Holiday Stress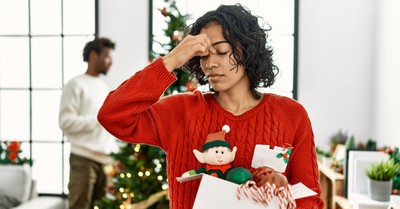 By April Motl, Crosswalk.com
Stress and the holidays seem to follow one another like the sunset chases the sunrise.
I haven't nailed down stress-free holidays. It seems that as soon as I learn to deal with one kind of stress, a new and different one to tackle finds my horizon. But as I have pursued the peaceful perspective I think is more God-honoring than my stressed-out frenzy, I've learned these three truths can guard my heart against a lot of unnecessary turmoil!
1. It's Not Your Job to Make the Holidays Special
As wives, moms, and grandmas, we delight in nurturing family time and creating all the touches that bless our family and make our holiday gatherings sweet. Yet, too much hustle and bustle all too quickly turn a good-intentioned mama into a stressed-out one!
What makes family time over the holidays special isn't all the work we put into it! It is the work God has already done in our lives! His work is what makes the holidays special! We can add a few family favorite dishes to the table or wrap gifts to show our love, but those things are just garnish on top of what He has done. Remembering that the focus is celebrating God's goodness and faithfulness will ease the stress to "make" the holidays special. God already did that! Let's celebrate it, not make more work for ourselves.
Soak these verses into your heart:
For I am confident of this very thing, that He who began a good work in you will perfect it until the day of Christ Jesus. Philippians 1:6
For it is God who is at work in you, both to will and to work for His good pleasure. Philippians 2:13
Therefore when Jesus had received the sour wine, He said, "It is finished!" And He bowed His head and gave up His spirit. John 19:30
The LORD will accomplish what concerns me; Your lovingkindness, O LORD, is everlasting; Do not forsake the works of Your hands. Psalms 138:8
If God has done so much, is doing so much, and promises so much, all our hustle and bustle can't add the tiniest amount of "more" or "better." The holidays are meant for reflection and rejoicing in His work - not making more for ourselves!
2. Manage Holiday Expectations as a Family
Expectations are sneaky little troublemakers! They creep into our minds without us even being aware of them! Talking through your expectations and understanding the rest of your family's hopes for the holidays helps in two ways. First, talking them out will help you and the rest of the family become aware of unspoken expectations - which can clear up a lot of disappointment and misunderstandings before they even happen! And second, talking them through helps everyone come to a united set of goals, which in and of itself eases tensions!
Without consultation, plans are frustrated,But with many counselors they succeed. Proverbs 15:22
The plans of the diligent lead surely to advantage, But everyone who is hasty comes surely to poverty. Proverbs 21:5
Can two walk together, unless they are agreed? Amos 3:3
This is the time you can settle trading who the family visits for Thanksgiving or New Year. Maybe you decide who has a family need right now that might require more of the gifting budget. Working through those decisions before you are in the schedule-packed, peppermint-mocha-caffeine-driven moment relieves potential stress before it happens!
3. Most Stressors Are Actually Blessings
For probably 90% of the things we are stressed about over the holidays, we could turn them upside down and see the immense privilege it is that we get to have them! Gift-giving is stressful, but what a blessing and joy to share our love with family and friends! Hosting people is stressful, but what a blessing to have a home to share with people and food in the fridge to serve them. (Yes, I know its the worry they will judge us that makes hosting stressful, and I struggle with this too, but let's try not to take on their weakness and make it our own!) The overflowing schedules are just us trying to enjoy all the blessings in too little time! I'm a home-hustling mom and have too many side jobs to keep up with as well as I'd like. But multiple poles in the water have helped us keep fish on the table, so to speak. During the holidays, I usually have an extra busy season. That, too, is simply a blessing that is hard to get my arms around!
We have a lot of holiday-related "burdens" that could be viewed as blessings! Yes, there are burdens of health issues, grief, and very real financial hardship. But a considerable portion of what we allow to stress us out is not a matter of life and death. It is far too often first-world "problems" that many other people could only wish to trade with us!
If we set our mind on the eternal things, on the things that have lasting value, we will safeguard our hearts and minds from a lot of unhealthy stress. If we ask ourselves before we give way to stress if this concern is perhaps a blessing we carry like a burden, we will more wisely guard our hearts!
Be anxious for nothing, but in everything by prayer and supplication, with thanksgiving, let your requests be made known to God; and the peace of God, which surpasses all understanding, will guard your hearts and minds through Christ Jesus. Philippians 4:6-7
You will keep him in perfect peace,
Whose mind is stayed on You,
Because he trusts in You. Isaiah 26:3
May the Lord's peace guard your heart in a fresh way this coming season!
Photo credit: ©GettyImages/Aaron Amat
---
April Motl is a pastor's wife, homeschool mom, and women's ministry director. When she's not waist-deep in the joys and jobs of motherhood, being a wife, and serving at church, she writes and teaches for women. You can find more encouraging resources from April here and here.
LISTEN to Our Christ-Centered Christmas Podcasts on LifeAudio
The views and opinions expressed in this podcast are those of the speakers and do not necessarily reflect the views or positions of Salem Web Network and Salem Media Group.
WATCH: Prophecies That Foretold Jesus' Birth
See the numerous biblical prophecies of the birth of Jesus Christ and what we can learn from the Old Testament about His divinity in this collection of scripture quotes.