21 Encouraging Scriptures for Single Moms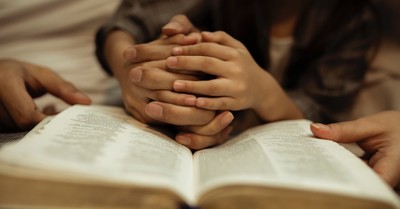 By Stacey Monaco, Crosswalk.com
Motherhood is, without a doubt, one of the greatest and most difficult journeys that a woman can embark upon in this life.
It has been said many times that parenting is not for the faint of heart. This is true for the married woman who has a loving husband who is an active participant in raising a child, but these words are exponentially multiplied for the single mama.
The single mama most often lacks the support to parent their child or children with the tag-team approach that couples are able to employ. She effectively has the tasks of both parents and finds herself acting as wage earner, financial director, menu planner and chef, keeper of the home and the family schedule, and the list goes on and on.
As Mother's Day approaches, churches are gearing up sermons and Sunday services designed to dignify motherhood, and for good reason. To parent and prepare the next generation is a calling of great worth.
Single mama's far and near will be doing their best to get themselves and their little's ready for a day where perhaps the only honor they will receive is the simple privilege of being called "mom." Author Ciara Sims reminds these single moms that they are "known and loved intimately by the creator of the universe."
Known and Loved
Scripture puts it this way, "I have summoned you by name; you are mine," Isaiah 43:1
Amid the day-to-day doing-it-alone task of single motherhood, leaning upon the encouragement of Scripture, and the strength of a loving God who knows you intimately by name, and loves you with a capacity that whispers heaven, can provide a rich and deep breath of hope.
Here are 21 Scripture verses to encourage and remind single mamas that every day is Mother's Day when you are known and loved by God. Read them aloud in your home, write them in the pages of your daily planner, use them as the background for your phone, stick them on the mirror of your bathroom, and pray them back to the God who loves you dearly. They are God's Happy Mother's Day card to you, sweet words penned by the Holy Spirit for the strengthening of your soul and encouragement of your spirit.
For the Mama that needs to be reminded that she and her children are loved, seen, known, and created by a Father God who is good, who will care for them, and who has a specific and beautiful plan in mind for their lives:
1. "The Lord will fulfill his purpose for me; your love, O Lord, endures forever—do not abandon the work of your hands." (Psalm 138:8)
2. "The Lord watches over the alien and sustains the fatherless and the widow…" (Psalm 146:9)
3. "…being confident of this, that he who began a good work in you will carry it on to completion until the day of Jesus Christ." (Philippians 1:6)
For the Mama that needs to know that God is with her and will be a guide to her as she seeks to lead, love, and raise her family:
4. "Trust in the Lord with all of your heart and lean not on your own understanding; in all of your ways acknowledge him, and he will make your path straight. (Proverbs 3:5-6)
5. "No one whose hope is in you will ever be put to shame." (Psalm 25:3)
6. "He guides the humble in what is right and teaches them his way. All the ways of the Lord are loving and faithful for those who keep his commands." (Psalm 25:10)
For the Mama who may be feeling like every day is a struggle or a new crisis or is struggling with fear:
7. "God is our refuge and our strength an ever-present help in trouble." (Psalm 46:1)
8. "Whoever listens to me will live in safety and be at ease without fear of harm." (Proverbs 1:33)
9. "I am the Lord, the God of all mankind. Is anything too hard for me?" (Jeremiah 32:37)
For the Mama who can't seem to find the words to pray, these verses can be personalized:
10. "May the God of hope fill you with all joy and peace as you trust in him, so that you may overflow with hope by the power of the Holy Spirit." (Romans 15:13)
11. "I wait for the Lord, my soul waits, and in his word I put my hope." (Psalm 130:5)
12. "Cast all your anxiety on him because he cares for you." (1 Peter 5:7)
Here is an example of how to personalize a verse for prayer:
"Father, I am anxious about (finances, meeting the needs of my family, a work issue, a health concern, a specific issue relating to your child or yourself), and I am giving it to you because I know you care for me, for my child/children, and our needs. I am giving you these areas that I am anxious about and trusting you for the answers to help my anxious heart. Amen"
For the Mama who just needs to sit with Jesus and reflect on his character:
13. "Come to me, all you who are weary and heavy burdened, and I will give you rest." (Matthew 11:28)
14. "Take heart daughter," he said, "your faith has healed you." (Matthew 9:22)
15. "Why are you troubled, and why do doubts rise in your minds? Look at my hands and my feet. It is I myself!" (Luke 24:39)
For the Mama who can't seem to shake the loneliness of her journey:
16. "Turn to me and be gracious to me, for I am lonely and afflicted." (Psalm 25:16)
17. "A father to the fatherless, a defender of widows is God in his holy dwelling. God sets the lonely in families, he leads forth the prisoners with singing…" (Psalm 68:5-6)
18. "He heals the broken hearted and binds up their wounds." (Psalm 147:3)
For the Mama who needs to declare the goodness of God over her life:
19. "I run in the path of your commands for you have set my heart free." (Psalm 119:4)
20. "I am my beloved's and my beloved is mine…" (Song of Songs 6:3)
21. "The boundary lines have fallen for me in pleasant places; surely I have a delightful inheritance." (Psalm 16:6)
Behind the closed doors of your home, it can be easy in the challenging moments to give way to deep loneliness as a single mom. A day like Mother's Day may only enhance those emotions.
I have walked that long path and can remember crying on the floor more than once and truly wondering how I would be able to parent through the next hour, let alone the next day. On days like these, I want to encourage each and every single mama to take her honest prayers to Jesus, remembering that He is your very present help in trouble. You can never call out to him too often or too much.
On the hardest day, may these Scriptures stand ready for you to lean on, and for further hope and encouragement, dig into the verses and chapters of Scripture from which they have been collected.
Whether today finds you in one of those hard days, or the sweetest of moments, as you parent and stand for your little ones, may you echo with the psalmist, "Whoever dwells in the shelter of the Most High will rest in the shadow of the Almighty. I will say of the Lord, "He is my refuge and my fortress, my God, in whom I trust." Psalm 91:1-2
Photo credit: ©Getty Images/Rudi Suardi
Stacey Monaco has been speaking and writing since her first unpublished children's book in the fifth grade. Her journey as a writer has taken her from the depths of blue water exploration, to the simplicity of crafting words to encourage and educate in the areas of loss, legacy, leadership, and living life passionately with purpose. Stacey received her Masters Degree in Christian Ministry and Leadership from Talbot School of Theology, and has worked in many roles from slinging coffee to pastoring women. To find more on living the Christian life with intention, head over to her website at StaceyMonaco.com.
Related podcast:
The views and opinions expressed in this podcast are those of the speakers and do not necessarily reflect the views or positions of Salem Web Network and Salem Media Group.
Related video:
Read the full devotional here.
Video created by Kayla Koslosky, Stock footage courtesy: ©Soundstripe Library, Photo courtesy: ©Soundstripe Library/SWN Design