3 Things My Grandparents Taught Me about Thanksgiving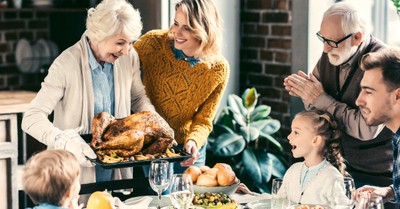 By Ryan Duncan, Crosswalk.com
Stepping through the door of my grandparent's house on Thanksgiving Day was a lot like jumping head-first into a category 5 tornado. Noise and activity were everywhere, your only hope of escaping it was to hide in the bathroom. Once you acclimated to the chaos though, and all the customary greetings had been made, the house became a place where laughter and warmth mingled freely. Thanksgiving was more than a holiday for my grandparents, every part of the celebration was centered on the LORD and His blessings. Sure, we had our awkward family moments like everyone else, but there was never a year I didn't look forward to that annual gathering.
I'm older now, and much about my life has changed, but I'll always remember what my grandparents taught me all those years ago about God, gratitude, and Thanksgiving.
1. Thanksgiving Begins with God
Each year, when the table was set and the food ready to be devoured, my grandfather would call our family into the living room for prayer. People would emerge from the basement or come popping out of side rooms to jockey for position on the sofa. Once everyone was seated, my grandfather would open his fading, dog-eared copy of the KJV translation and begin reciting Psalm 103.
"Bless the LORD, O my soul: and all that is within me, bless his holy name. Bless the LORD, O my soul, and forget not all his benefits…"
Even as a child, I can remember feeling moved by the words of that psalm. My grandfather never rushed. He made sure every word received its proper weight, and when he finished, we would bow our heads as he led us in prayer. Thanksgiving doesn't begin with turkey and potatoes. It begins with God, who redeems our life from sin, and crowns our heads with love and kindness.
To help you in thanking God, we created a 30 Days of Gratitude Prayer Guide HERE. Download and print this guide to keep with you as a reminder of God's love and promises.
2. Thanksgiving Is about Gratitude and Giving
When people think about Thanksgiving, they typically picture a big, hearty Thanksgiving meal. That meal was made by my grandmother. The kitchen in my grandmother's stout, little house was small, but it was her kingdom. She would spend the entire morning bussing back and forth, basting turkey, kneading dough, or preparing my grandfather's favorite dish; rutabaga. My cousins and I never paid attention. We were kids, and it was normal for grandma to cook everything.
As I grew older, it dawned on me how much work my grandmother actually put in to our supper. While everyone else was playing or socializing, she was laboring over the food. One year my curiosity got the better of me, and I asked how she didn't get angry or complain about all the work. She gave me an exhausted smile and said, "Because it's a labor of love." My grandmother knew that Thanksgiving was about more than gratitude, it was about giving.
3. Thanksgiving Has Leftovers
Every great Thanksgiving meal has leftovers. If you're like my family, you'll scoop the remaining food into Tupperware dishes and spend roughly fifteen minutes trying to stuff them into an overcrowded fridge. Later, when people start to feel a bit peckish, they can simply make sandwiches out of cold turkey or heat up some cheesy potatoes. Thanks to my grandparents, our Thanksgiving always came with an abundance of leftovers. Not only that evening, but the entire week would be fed on the remains of my grandmother's cooking.
The whole experience reminded me of Psalm 23, specifically the part where David writes, "…my cup overflows". There was just so much more than any one person could ever eat! In the same way, my grandparents taught me how there is more to be thankful for in this life than we will ever realize. We prefer to focus on the big things like money, careers, and success, but how many small blessings go unnoticed? How many become leftovers? This Thanksgiving, be sure to thank God for all the wonderful things He has done for you. For family, for good food, and above all, for his sacrifice on the cross.
May you have a happy Thanksgiving with plenty of leftovers!
Photo credit: ©GettyImages/LightFieldStudios
LISTEN to Our Thanksgiving Podcasts from LifeAudio
The views and opinions expressed in this podcast are those of the speakers and do not necessarily reflect the views or positions of Salem Web Network and Salem Media Group.
WATCH: Daily Prayers of Thanksgiving