Giving Thanks in All Things - The Crosswalk Devotional - August 12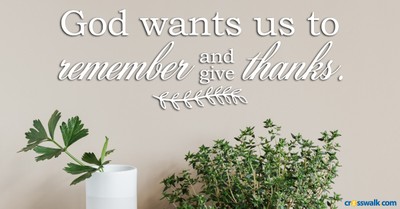 By Emma Danzey, Crosswalk.com


Giving Thanks in All Things
By Emma Danzey
Colossians 3:17 says, "And whatever you do, in word or deed, do everything in the name of the Lord Jesus, giving thanks to God the Father through him."
Whatever You Do
There are times in life when we need to push through the tiredness or laziness to accomplish a task. Do you remember school projects? Or reaching a work deadline? Do you think about the time when you had a newborn in the house? Or the moment you were in that workout class ready to give up? We have all been there. We have all had experience with the temptation not to give our best. However, when we think about Colossians 3:17, it reminds our minds and hearts that whatever we do is for the Lord. This means that even when we are given less than glamorous tasks, we can remember that we can embrace that opportunity as an act of worship before God in whatever we are doing.
In Word or Deed
There is a reason why God gives most of us the ability to talk. We have the ability to use our words as a testimony of Him. When we are given moments to share words of thanksgiving and praise, we need not hold back. Our words can be used for evil or good. We can ask the Holy Spirit to empower us to speak words that bless through His help. Also, our deeds, or actions, matter to the Lord. When moments arise to be there for someone in need or give to the poor or provide a practical need for another, we get to decide if we will represent Christ with our decisions. Our actions speak just like words do to this broken and fallen world. We can love like Jesus in both.
Do Everything in the Name of the Lord Jesus,
We do not get to flip a switch on and off as to when we want to follow God or be thankful to Him. This Scripture tells us that we are to do everything in Christ's name. This is not a small task, and we cannot accomplish this on our own. It is only by the grace of His Spirit in us that we can make decisions to honor Him. This means that we do not get a pass because we are having a bad day. We are not excused to be ungrateful when things do not go our way. In fact, we are motivated to press into God and do everything in His name with a grateful heart.
Giving Thanks to God the Father Through Him
We are called as believers to give thanks to God through Jesus. We can be grateful at all times when we have received the gift of salvation through Jesus. We know that we are eternally sealed, wholly His, and fully loved. There will be times when external blessings pour out on our lives and we can celebrate these great gifts from God. However, there will also be times of struggle and hardship. We can be equally as thankful in these times. This is not because things happening in life are giving us a reason to be thankful, but because Jesus' gift of salvation and His presence never leaves us.
We can always be thankful because we are His and Romans 8:28 tell us that God works all things for the good of those who love Him. Even in suffering, we can find gratitude in Christ. He is where our joy is found. Psalm 34:8 says, "Oh, taste and see that the LORD is good! Blessed is the man who takes refuge in him!" May we taste and see the goodness of God each day with hearts of thanksgiving.
Intersecting Faith and Life:
How are you living a life of gratitude? In what ways do You find it challenging to have a thankful attitude in your daily life? What area, in particular, is difficult for you to give thanks in right now? How can you begin to be grateful in word, deed, and in all things through Christ?
Further Reading:
Photo credit: ©SalemDesign/BethanyPyle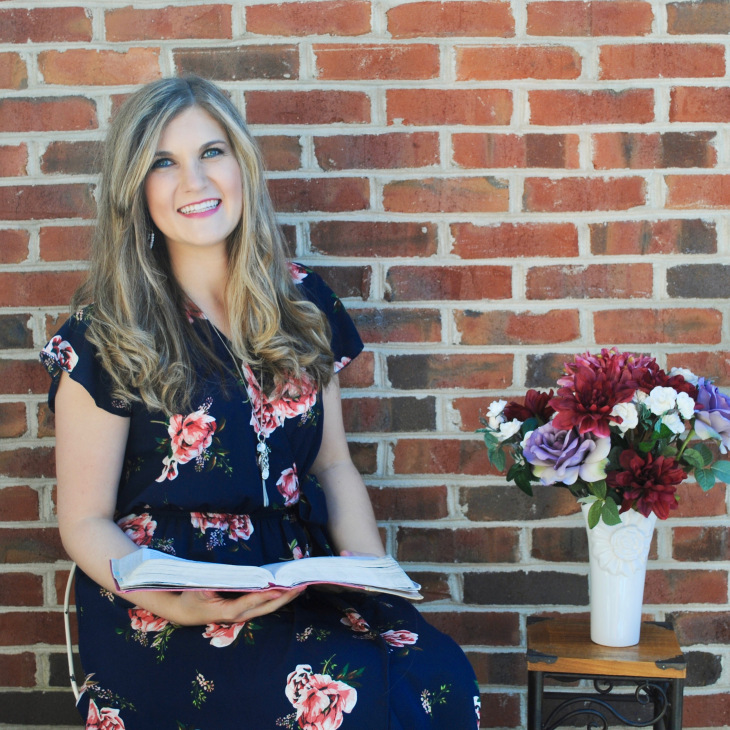 Emma Danzey's mission in life stems from Ephesians 3:20-21, inspiring young women to embrace the extraordinary. One of her greatest joys is to journey with the Lord in His Scriptures. She is wife to Drew and they have been married for over a year. Drew and Emma serve with Upstate CRU college ministry in South Carolina. Emma is an avid writer for Salem Web Network and provides articles on the Bible, life questions, and on the Christian lifestyle. Her article on Interracial Marriage was the number 1 viewed article on Crosswalk for the year 2021. All the glory to the Lord! She has the joy of being the host of Her Many Hats podcast where she explores the many roles that women play while serving One God.
Emma enjoys singing/songwriting, fitness classes, trying new recipes, home makeover shows, and drinking tea! During her ministry career, Emma recorded two worship EP albums, founded and led Polished Conference Ministries, ran the Refined Magazine, and served in music education for early childhood. Currently, she is in the editing stages of her first published book on singleness. Emma also had the privilege of being a national spokesperson for Mukti Mission based out of India. Mukti has been working to restore shattered lives in India for over 120 years. You can view her articles through her blog at emmadanzey.wordpress.com and check out Her Many Hats podcast on Instagram @her_many_hats.

Check out fantastic resources on Faith, Family, and Fun at Crosswalk.com!
Kainos is a word used in the Bible to refer to something new. Kainos Project exists to create a community of voices that are eager to explore the new ways God wants to work in the lives of his followers and in his Church. Join Dale and Tamara Chamberlain as they explore what it means to experience the abundant life that Jesus promised us by tackling ancient truths in everyday settings.

Listen to an episode now by clicking the play button below!