The Danger of Busy Thoughts - iBelieve Truth: A Devotional for Women - March 10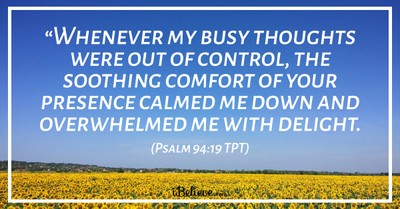 Crosswalk.com

The Danger of Busy Thoughts
By Kristine Brown
"Whenever my busy thoughts were out of control, the soothing comfort of your presence calmed me down and overwhelmed me with delight." - Psalm 94:19 TPT
Have you ever noticed how hard it is to wind down your thoughts at the end of a long day? When you want nothing more than to quiet your mind long enough to enjoy a good night's rest? But it seems the harder you try to shut off those thoughts, the more the day's worries linger.
I've been known to turn on a favorite Netflix show or grab a good book from the nightstand in an effort to turn off the cares of my day. I want instant results, so I attempt a quick escape from reality. Unfortunately, my attempts rarely work, and I end up laying there fighting between focusing on the next paragraph, checking social media, or thinking ahead to tomorrow's to-do list. Before long, I end up mentally overwhelmed and physically exhausted.
Thankfully, God's Word offers hope and help for when our busy thoughts seem out of control. God desires for us to have peace. So much in fact, that He gave it to us as a precious gift through His son Jesus Christ. Jesus confirms this in His own words, "Peace I leave with you; my peace I give you." John 14:27
So if Jesus wants us to have this peace, why is it hard to keep busyness in its proper place? Because we forget that peace comes when we replace our anxious thoughts with God's presence.
"Whenever my busy thoughts were out of control, the soothing comfort of your presence calmed me down and overwhelmed me with delight." Psalm 94:19 TPT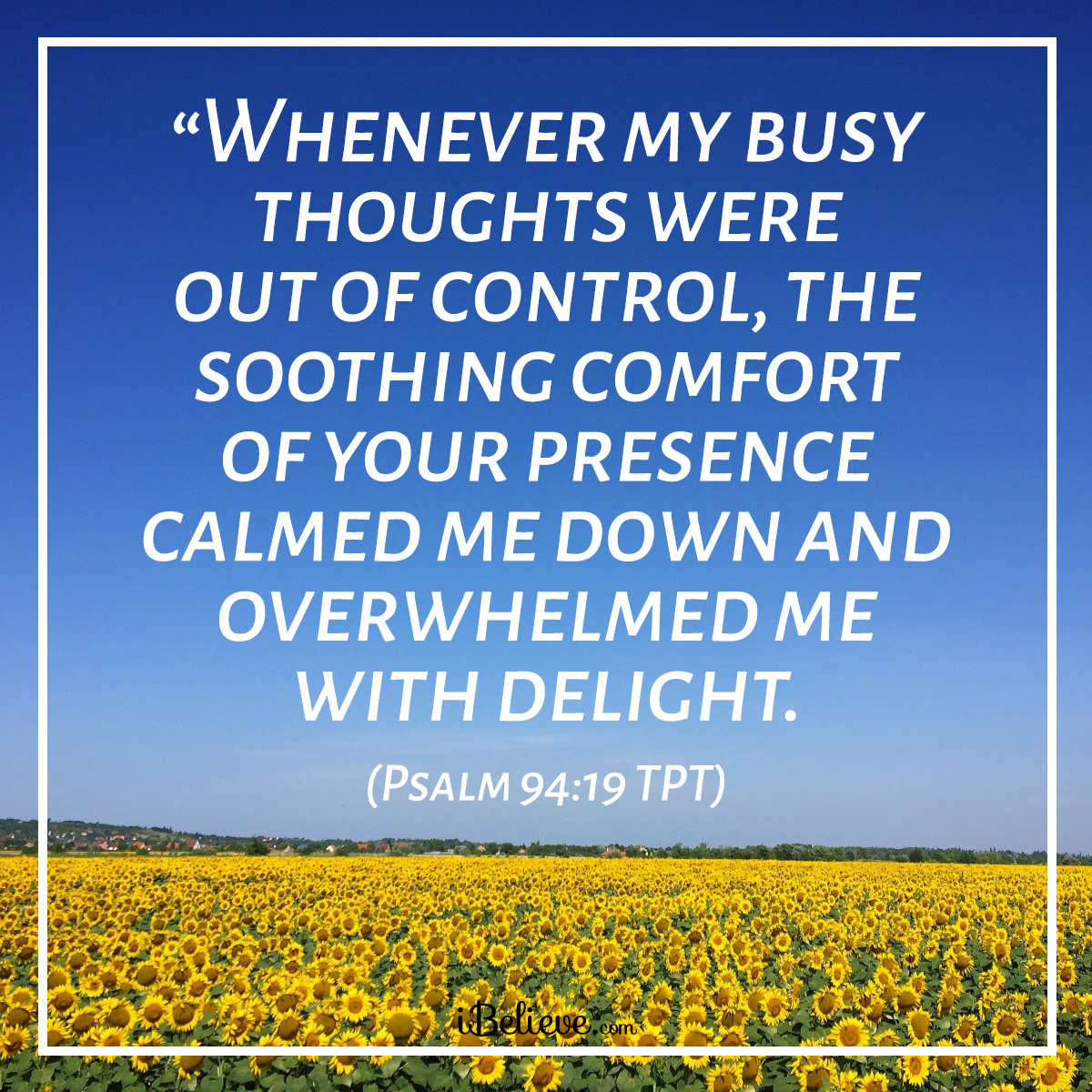 This powerful encouragement from David comes in the midst of a psalm proclaiming God as the ultimate judge and avenger. David wrote about God's protection for the oppressed and righteous judgment for "the wicked." Yet he also included this inspiring verse in a personal way, as a testimony of the Lord's goodness in his life.
The New International Version of Psalm 94:19 interprets David's turmoil as "anxiety great within him." Anxiety is a condition many of us today can relate to. But while exploring this verse, I felt a deep connection with the lesser-known Passion Translation, which uses the words "busy thoughts" to describe David's feelings about that pivotal moment. I know the dangers of busy thoughts all too well. And if you are nodding in agreement as you read along, let's consider David's words as a profound promise from our Heavenly Father.
Busy thoughts can deceive my entire being and bring about stress, worry, and anxiety. But inviting God into my moment welcomes His truth, His comfort, and His peace.
Do you struggle with winding down busy thoughts after a long day? Do you long for peace and real rest? Write today's verse down. Keep it within reach. As we allow these words to usher in God's presence, we will experience delight like never before. We will trade the danger of busy thoughts for calming comfort that can only come from God.
---
Check out more from Kristine about What the Bible Says About Being Busy here. Discover more encouragement to help you "become more than yourself through God's Word" at her website, kristinebrown.net. Kristine Brown is the author of the book, Over It. Conquering Comparison to Live Out God's Plan, and the new Over It. Devotional for Teen Girls.
Looking for authentic conversations about how to deal with body image, insecurity, and comparison issues as a Christian woman? The Compared to Who? Podcast is the show for you! Twice a week, we tackle tough topics like dieting, disordered eating, weight loss, aging, body dysmorphia, and more from a practical, grace-filled, gospel-centered perspective.