In Heaven He Stands - Truth For Life - March 12
Crosswalk.com

He holds his priesthood permanently, because he continues forever. Consequently, he is able to save to the uttermost those who draw near to God through him, since he always lives to make intercession for them.
Jesus' sacrificial work as our High Priest is a finished work, a once-and-for-all accomplishment with regard to sin. There is no need for repetition and no possibility of addition. But why is it, exactly, that He is able to "save to the uttermost those who draw near to God through him"?
Because, first, Christ's role as our Great High Priest is the solution to our rebellion. Deep down inside, each of us knows that we have rejected our dependence upon God, instead making a bid for independence. In trying to live our lives independently, we reveal that our stubborn hearts are curved into themselves. We pridefully think, "I don't need an advocate. I don't need anybody to do anything on my behalf. I can handle this myself."
But despite the fact that we have rebelled against God, amazingly, He seeks us out and saves us. Jesus brings about reconciliation by dealing with our alienation from God, which is two-sided: we are alienated on our side by our sin and on God's side by His wrath. Jesus has paid the penalty for our sins; He has satisfied God's wrath by offering Himself as an unblemished sacrifice.
Second, Jesus saves "to the uttermost" because He has destroyed the leverage that the Evil One uses to fill us with fear. In Hebrews 2, the writer explains, "Since therefore the children share in flesh and blood, he himself likewise partook of the same things, that through death he might destroy the one who has the power of death, that is, the devil, and deliver all those who through fear of death were subject to lifelong slavery" (v 14-15). Through His own death, Jesus has set us free from Satan's grip, liberating us from what ought to be our greatest fear: death itself. When Satan seeks to accuse us before the Father, Jesus is, as it were, able to point out that his words are empty—that he has nothing to say against us. And Jesus' priestly work still continues in His continual intercession on our behalf. In Jesus we have a Priest who sheds His grace on our lives day by day through His heavenly mediation. As Jesus enjoys being in His Father's presence today, right now, He is not offering a sacrifice, but rather speaking as our advocate before the Father. We may picture Him standing by His Father, saying, That one is mine. I died for her. She is covered by my blood and is clothed in my righteousness.
So, "When Satan tempts me to despair, and tells me of my guilt within / Upward I look and see Him there, who made an end of all my sin." Therefore, "I know that while in heaven He stands, no power can bid me thence depart."[1] Jesus, your Priest forever, stands in His Father's presence today, speaking of you and for you. There is nothing to fear.
As a thank-you from us for your gift, we'll send along this month's resource: How Christianity Transformed the World by Sharon James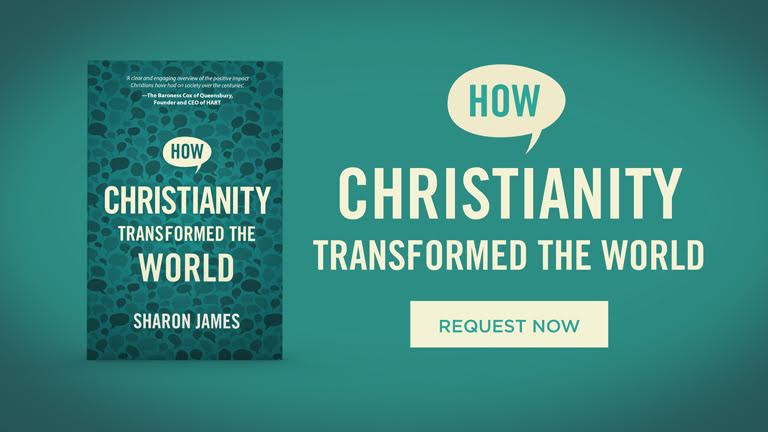 Click here to learn more about Truth For Life
Devotional material is taken from the Truth For Life daily devotional by Alistair Begg, published by The Good Book Company, thegoodbook.com. Used by Truth For Life with permission. Copyright © 2021, The Good Book Company.