Respecting the Temple - Truth For Life - March 13
Crosswalk.com

He entered the temple and began to drive out those who sold, saying to them, "It is written, 'My house shall be a house of prayer,' but you have made it a den of robbers." And he was teaching daily in the temple. The chief priests and the scribes and the principal men of the people were seeking to destroy him, but they did not find anything they could do, for all the people were hanging on his words.
From the beginning of His life, the Jerusalem Temple was significant to Jesus. When He was a baby, the elderly Simeon had taken Him in his arms and declared Him in the temple courts to be the wonder of God's salvation (Luke 2:25-35). As a twelve-year-old boy, Jesus had sought out His Father's house and engaged in conversation with the religious leaders (v 46-49). Jesus' comfort in and love of His Father's house was palpable—and therefore so was His grief when He discovered irreverent behavior in that holy place.
The temple in Jerusalem was the place where God met His people. So when Jesus encountered an irreligious marketplace set up in its courts, He was justifiably grieved and angry. The individuals responsible for the disrespect in the temple were the same who had jeered at His triumphal entry into Jerusalem. They didn't bat an eye at exchanging money on the temple floor for an inordinate profit and deeming people's offerings of creatures "unacceptable" in order to sell them "acceptable" offerings at unfair prices. The way the temple courts were being used was so far removed from His Father's intentions that Jesus, as the Great High Priest, inevitably needed to come set it right. Jesus' knowledge of Old Testament prophecy allowed Him to speak with ultimate authority and remind the people of the temple's holy purpose, referencing Scripture that they knew and could not contest: "My house shall be a house of prayer" (Isaiah 56:7; see also Jeremiah 7:11).
Jesus' next action—using a whip made out of cords to drive out the livestock and stop the bazaar in its tracks (John 2:15)—was certainly justified. Zeal for His Father's reputation consumed Him (v 17). And yet we know that these were people over whom Jesus had wept (Luke 19:41-44). That whip was held by a Savior who had tears in His eyes.
Jesus is the perfect Son, who cares more than anything about bringing glory to His Father and who is angered more than anything by lies, greed, and pursuit of power that comes between His Father and sinners in need of grace. He looks at those who reject God and weeps, because He knows how far they have fallen. He looks at those who place barriers in the way of others meeting God and is angry, because He longs for His Father to receive the praise He is due and for people to be saved. We, too, would do well to weep over the lost and be angry over those who twist truth for their own ends. We would do well to pray for the same zeal for God's glory, even as we give thanks that Jesus came not only to reveal His zeal for His Father but to be the means by which we can dwell in His house forever.
As a thank-you from us for your gift, we'll send along this month's resource: How Christianity Transformed the World by Sharon James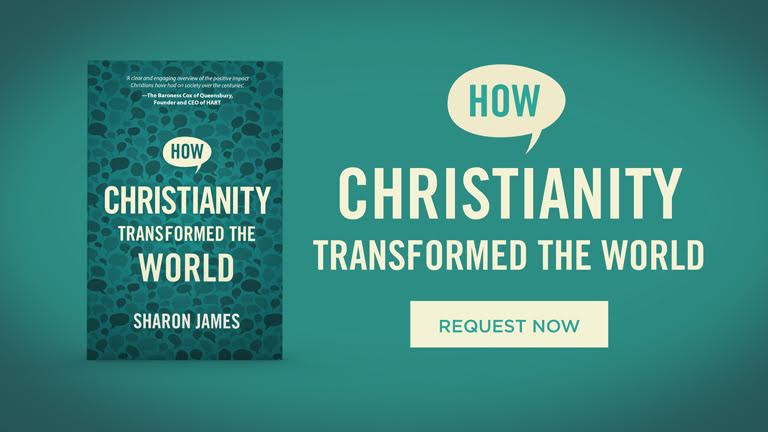 Click here to learn more about Truth For Life
Devotional material is taken from the Truth For Life daily devotional by Alistair Begg, published by The Good Book Company, thegoodbook.com. Used by Truth For Life with permission. Copyright © 2021, The Good Book Company.