How Can I Recognize If I'm Discontent?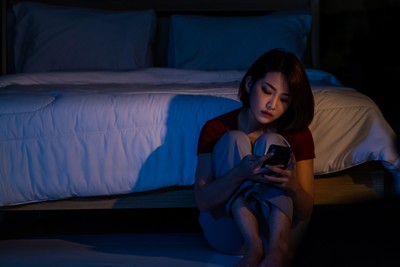 By Megan Moore, Crosswalk.com
Discontentment can slowly seep into our lives, beginning its negative impact without us noticing. It doesn't rest until it grips us deeply, strangling us from God's joy and truth. We must cut off discontentment when we first recognize its presence for us to continue growing and thriving. There are two main areas of our lives that will clearly show if we are discontent: our thoughts and our time. We can analyze these two areas and take steps to increase contentment. We are not alone, and we have biblical examples of how to do this.
Paul experienced beatings, shipwrecks, imprisonment, and hunger. He was hated, chased out of towns, and wrongly accused. Yet in Philippians 4:11-13 he wrote, "I have learned to be content whatever the circumstances. I know what it is to be in need, and I know what it is to have plenty. I have learned the secret of being content in any and every situation, whether well fed or hungry, whether living in plenty or in want. I can do all this through him who gives me strength."
Let's look at areas where we can clearly see discontentment acting up and how to use scripture to stop it in its tracks:
Our Thoughts
There are four thought patterns that indicate if we are discontent:
1. Critiques of Self
Are you criticizing yourself or your decisions? Do you feel like you are never good enough or always mess up? Are you telling yourself that you are a failure or that you need to get your act together? Are you emotionally beating yourself up regularly?
We know that "there is now no condemnation for those who are in Christ Jesus" (Romans 8:1), so when we are being overcritical of ourselves, we must "demolish arguments and every pretension that sets itself up against the knowledge of God, and we take captive every thought to make it obedient to Christ" (2 Corinthians 10:5).
2. Critiques of Others
Are you criticizing other people? Are you judging their life choices or questioning why they would do a certain thing? Do you find yourself struggling to praise or celebrate friends? Do you have reasons why other people don't deserve the good things they have?
Paul tells us to avoid comparing our situations to others because the Lord assigns each of us a role. "Only let each person lead the life that the Lord has assigned to him, and to which God has called him" (1 Corinthians 7:17 ESV).
3. Jealousy
Are you jealous? Do friends seem to have all the things you want, and you find yourself irritated with them? Are you focused on what others have instead of tending to your own things? Are you beginning to resent things in your life because they aren't as good as what others seem to have?
Jesus clarifies that jealousy wants to work its way into our lives and that we are to protect our hearts and minds from it. "Watch out! Be on your guard against all kinds of greed; life does not consist in an abundance of possessions" (Luke 12:15).
4. Worry
Are you having trouble sleeping because you are worried about something that happened or may happen? Do you find yourself stressed during the day by imagined problems? Does your heart rate increase, or do you feel tears spring to your eyes as you imagine things that could go wrong?
Jesus says that our worry accomplishes nothing. "Who of you by worrying can add a single hour to your life? Since you cannot do this very little thing, why do you worry about the rest?" (Luke 12:25-26). Rather than worry, we are to trust our Lord, who "will supply every need of yours according to his riches in glory in Christ Jesus" (Philippians 4:19).
Our Time
The way we spend our time is another indicator of if we are content or not.
1. What are you doing with your time?
Are you spending your time on activities that fulfill you or mindlessly scrolling social media? Are you zoning out in front of the television too often? Do you find yourself wondering where the day went and feeling like you didn't accomplish anything on your to-do list?
Filling our time with meaningless activities can be a sign that we are discontent. Whether it be on technology, shopping, or even working more than necessary, attempting to fill the void with anything other than God will never work. We are warned to use our time wisely in Ephesians 5:15-16: "Be very careful, then, how you live–not as unwise but as wise, making the most of every opportunity, because the days are evil."
2. What are you NOT doing with your time?


Are you struggling to pray because you are unsatisfied and don't know what to say? Are you avoiding church or friends? Have you not opened your Bible in weeks?
Discontentment wants to cut us off from the blessings of the Lord, which bring contentment. A synonym for discontent is dissatisfied, but we know that "blessed are those who hunger and thirst for righteousness, for they shall be satisfied" (Matthew 5:6)
How to Increase Contentment
The Bible clearly offers us two ways to increase contentment and keep discontentment at bay:
1. Prayer
We serve a Lord who has experienced life here on earth, and we can go to Him in prayer at any time, no matter what we are feeling. When we reach out to our Father through prayer, He gives us peace that reaches beyond any situation we may find ourselves in. "Do not be anxious about anything, but in every situation, by prayer and petition, with thanksgiving, present your requests to God. And the peace of God, which transcends all understanding, will guard your hearts and your minds in Christ Jesus" (Philippians 4:6-7).
2. Gratitude
There are plenty of documented reasons to practice gratitude. Both faith and science have proven that being thankful has a significant, positive impact on our lives. Whether you write down a gratitude list in a journal or in notes on your phone, share them with a friend, or just tell them to God, contentment will increase when you acknowledge how much good is in your life. "Now there is great gain in godliness with contentment, for we brought nothing into the world, and we cannot take anything out of the world. But if we have food and clothing, with these we will be content" (1 Timothy 6:6-8). Even when times are really difficult, there is plenty to be thankful for as a believer. "For the sake of Christ, then, I am content with weaknesses, insults, hardships, persecutions, and calamities. For when I am weak, then I am strong" (2 Corinthians 12:10).
Lord, I pray that we remain content in Your love. When we become discontent as a result of this fallen world, I pray that we recognize it quickly and reach out to You. Guard our minds as we take every thought captive. Guard our hearts as we offer our time to you. We thank You for being able to relate to us in every way and for always being happy to give us anything we ask for in Your Holy name. Amen.
Photo Credit: ©Getty Images/Candy Retriever
Megan Moore is a military spouse and mom of 3 (through birth and adoption). A speech-language pathologist by training, she now spends her time moving around the country every couple of years. She is passionate about special needs, adoption, and ice cream.